© 2017 Tecarta, Inc.
—
All by this author ›
Make
Favorite Author ›
Get it
$9.99
---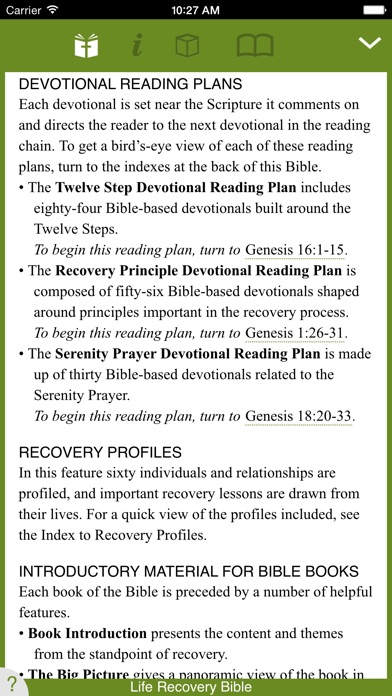 The
Life Recovery Bible
is today's #1-selling recovery Bible and is based on the 12-step recovery model. It was created by two of today's leading recovery experts, David Stoop, Ph.D., and Stephen Arterburn, M.Ed., to lead readers to the source of true healing—God himself.
Features:
- Full offline-text of the New Living Translation
- Recovery Notes: Placed throughout the Bible text, these notes pinpoint passages and thoughts important to recovery
- Twelve Step Devotionals: A reading chain of 84 Bible-based devotionals tied to the Twelve Steps of recovery and placed throughout the Bible text
- Serenity Prayer Devotionals: Based on the Serenity Prayer, these devotionals provide an excellent More than 50 Bible-based devotionals create an excellent guide to recovery
- Recovery Profiles: Key Bible characters are profiled and important recovery lessons are drawn from their lives
- Recovery Reflections: Topically arranged recovery reflections pinpoint specific Scripture passages at the end of most Bible books
- Recovery Themes: Prominent recovery themes are discussed at the openings of various Bible books
- Other Features: Outlines, book histories, topical index, devotional index, book introductions, and user's guide
- Fast and easy to use
- Flip back and forth from your Bible to note-taking during lessons with one touch and not miss a thing
- No internet connection needed for downloaded Bibles, Study Bibles, Commentaries and Devotionals
- Use either Study mode or Parallel mode.
- Select, copy and paste multiple verses easily and quickly
- Quick navigation either by using predictive entry or table of contents
- Margin notes allow you to write notes for a specific passage
- Night mode for low light reading
- Both word and verse selection for highlights
- Facebook and Twitter sharing
- Highlighting allows readers to easily emphasize verses or passages
- Full-text search by OT, NT or current book allows users to quickly find words and study topics
- Bookmark your favorite passages for quick future reference or make your own personal studies
- Powerful folder system allows users to organize notes and bookmarks
- History folder and back button
- Portrait / Landscape mode
- Font sizes can be easily changed
- Easily e-mail notes to yourself, friends or family
- Users can expand Bible translations library easily and affordably through in-app purchase
- Split-screen capability for parallel translations
- Autoscroll with adjustable speed
- Synchronize all your notes, bookmarks, margin notes and highlights across all iOS devices
Are we missing any features you would like to see? Do you have any suggestions? Email us at biblesupport@tecarta.com