© 2010 Matmi New Media Limited
—
All by this author ›
Make
Favorite Author ›
Get it
$0.99
---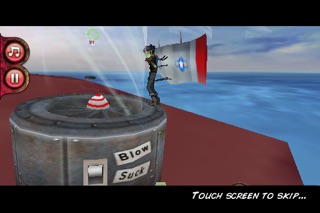 Matmi and the Gorillaz join forces to bring "Escape From Plastic Beach", the latest Gorillaz game, to the iPhone, iPad, and iPod Touch.
Reviews:
'If you enjoy the Gorillaz universe (and who doesn't?), you'll get a snapshot of entertainment out of the game... it pushes forward the bands' weird narrative and adds yet another layer to their increasingly labyrinthine collection of mediums they dabble in.'
By Thorin Klosowski - blogs.westword.com
'You'll find yourself smack dab in the middle of hectic battles against ships, planes, and who knows what-else as you swoop, glide, and bank furiously around the visually pleasant 3D environments.'
By iPhoneapples
'…this game gets an A+ for imagination.  It might be strange imagination, but thought was obviously put into the app... If you are looking for a novel app to show off to your iPad friends, Gorillaz-Escape to Plastic Beach is a good choice"
By iPadGames.org
About the game:
Escape to Plastic Beach is a 3D action game in which Murdoc floats and fights above Plastic Beach HQ on his Doom Glider to foil 2D's repeated escape attempts whilst battling ghost pirate ships, and a mix of other hazards and obstacles.
Designed especially for the tilt controls of the iPhone, iPad and iPod Touch, and featuring eight exciting levels of gun-toting, gliding actions in full 3D, as well as designs from Jamie Hewlett, and music and voice-overs from the band themselves, "Escape From Plastic Beach" is a must-have app for any Gorillaz fan.
"Escape to Plastic" Beach Features
Eight Exciting Levels – Fight, fly and fire your way through eight levels of Gorillaz action with varied goals and missions and a whole bundle of hazards and enemies to deal with.
Amazing 3D graphics – Plastic Beach is recreated in full 3D, with designs from Jamie Hewlett, designer of the Gorillaz.
Awesome Sounds – Gorillaz soundtrack from the Plastic Beach album and voiceovers from the band themselves!
Global Scoreboard – Compete against your friends or even total strangers by posting your score.
Made by Matmi
(Winners of best mobile game of the year 2009 at the Roses awards)